12 Days Of Caring – Bend
Giving back to our customers, the community and our employees.
Each year, we spend 12 days focusing on our Kendall Cares mission, giving back to local-non-profit organizations, and showing appreciation for our customers and employees.
Our Central Oregon team kicked off Kendall's 12 Days of Caring with a fun holiday sock extravaganza. They were all spectacular, but there had to be one winner from each location. The lucky winners walked away with a membership to the sock of the month club.  We also enjoyed an ugly sweater contest, an incredible gingerbread building contest, a cookies and cocoa day,  holiday trivia games, and a delicious holiday luncheon.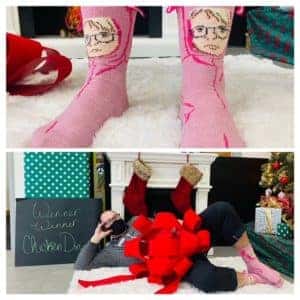 We know how important and what a big decision it is when deciding who you are going to service and purchase your vehicle from. As a thank you for trusting us with their business, several of our Kendall employees surprised unsuspecting customers with Kendall plate frames during our 12 Days of Caring. From filling up their gas tanks, to buying their coffee, we had a wonderful time spreading some holiday cheer this season.
During our 12 Days of Caring our employees and their families were actively involved in giving back to our community. They helped provide gifts for families from the Choose Joy Foundation, the collected food for veterans and their families, and they stuffed stockings for families staying at the Ronald McDonald House.
It was also a privilege and an honor present a $5,000 check to the Choose Joy Foundation during our 12 Days of Caring. The work they do year round to help the families they serve is truly remarkable.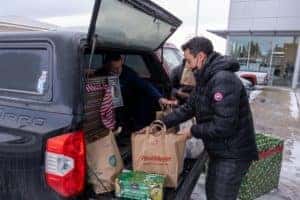 To learn more about our 12 Days of Caring, follow us on social media or visit: http://www.kendallgivesback.com/2021/11/29/kendall-bend-12-days-of-caring-2/