12 Days of Caring – Eugene
Giving back to our customers, the community and our employees.
Kendall's '12 Days of Caring' is a holiday event that we look forward to all year. It is designed to give back to the markets we serve through a variety of outreach activities centered around our customers, the community, and our employees.
In Eugene our staff kicked off our 12 Days of Caring with a fun holiday sock contest.  The winners each received a membership to the sock of the month club.  We also enjoyed an Ugly Sweater contest, a cookies and cocoa day, a private movie screening, and we recognized employees at each location that made Santa's "extra nice list" this year.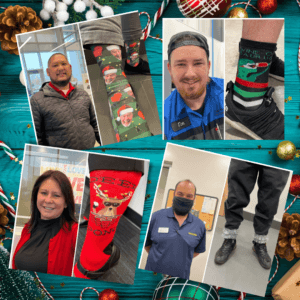 As a family-owned business, we know first-hand the importance of buying, living, and being local. As a thank you for trusting us with their business, several of our Kendall elves (and the Grinch) surprised unsuspecting customers with Kendall plate frames during our 12 Days of Caring. From filling up their gas tanks, to buying their coffee, enjoying a cookies and cocoa bar together, and walking away with some cool holiday cash. We loved being the reason for their smiles.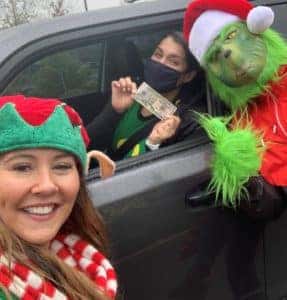 While selling and servicing vehicles is our main business practice, giving back and being actively involved in our community is equally important to our team.  During our 12 Days of Caring our employees had so much fun giving back and supporting this wonderful place we all get to call home. Our staff donated and shopped for an entire cargo van full of toys, clothes, food, and other household necessities for families at the Relief Nursery. They also helped fill and deliver stockings to families staying at the Ronald McDonald House.
At Kendall, we think of giving not as a duty, but as a privilege. It was an honor and a privilege to present a $5,000 check to the Relief Nursery, and select the Hope Project as our Subaru Share the Love Hometown Charity.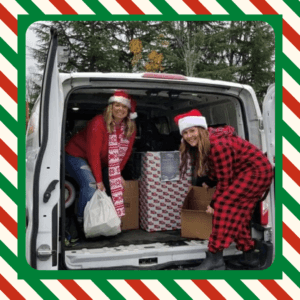 To learn more about our 12 Days of Caring, follow us on social media or visit:  http://www.kendallgivesback.com/2021/11/29/kendall-eugene-12-days-of-caring-2/