2 Year Old Titan Is Ready For Adventure
He's a Frisbee enthusiast & lover of butt scratches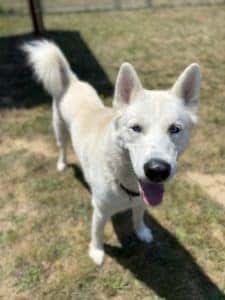 Titan is such a handsome pup with gorgeous, stunning blue eyes! He is a 2-year-old Husky with lots of personality! He LOVES chasing the Frisbee, romping around the yard and sitting for treats! He is looking for an active family that he can join on hikes and adventures to help burn off all his energy. His ideal day would consist of a long walk, a game of fetch outside and some couch snuggles later in the day. A staff member said, "I can't believe Titan hasn't been adopted yet! He can be a little shy when he's nervous, but he warms up quick and is so gorgeous! He will thrive in an active family that loves to be outside and move around like he does!"
Titan previously lived with another dog but should meet any similarly sized canine friends at the shelter before going home. He will do best in a cat free home and enjoys mature, older kids who can give him space when he wants to be independent. He weighs between 55 and 60 lbs. Titan has a very sweet demeanor and is very lovable! He will make a family very happy with his big smile and goofy personality!
If you are interested in adopting a dog, or would like to learn more about adding a dog to your family, please call Greenhill Humane Society.
Greenhill Humane Society open seven days a week, 11 am – 6 pm at 88530 Green Hill Rd in Eugene. Cat adoptions are on a first come limited capacity basis. Dogs and small animal adoptions are by appointment. For more information call (541) 689.1503 or visit www.green-hill.org.