Adventure Seeking Phoenix Looking For Her Forever Companion
She's a cheese connoisseur & squeaky toy lover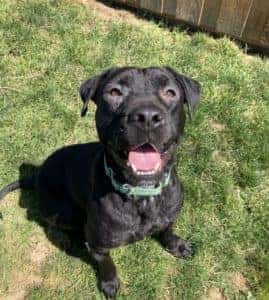 Meet Phoenix! This gorgeous bundle of energy had a rough time before coming to Greenhill but with lots of TLC and medical care she is ready to live her best life with her forever family!  She would love an active family that she can accompany on lots of adventures. She loves being outside to play and get zoomies! Phoenix is looking for a patient family who will continue using positive reinforcement training so she can improve her manners. She is a very smart pup who is very food motivated! A staff member said, "Despite her painful past, she is a lovable girl who always greets our team with sloppy kisses and a wiggling tail. We love this goofball, squeaker-loving girl and can't wait for her to find her forever family who will give her endless love, cheese, and attention!"
Phoenix is a 2-year-old Boxer mix with black fur and lots of affection! She loves getting attention and would enjoy having a family that is home often to spend a lot of time with her. Phoenix would do best living without cats as she still has lots of puppy energy. It's not recommended that Phoenix go right into a home with another dog, but she could become comfortable living with one in the future. Phoenix will definitely be an incredible snuggle buddy and partner in adventures!
If you are interested in adopting a dog, or would like to learn more about adding a dog to your family, please call Greenhill Humane Society.
Greenhill Humane Society open seven days a week, 11 am – 6 pm at 88530 Green Hill Rd in Eugene. Cat adoptions are on a first come limited capacity basis. Dogs and small animal adoptions are by appointment. For more information call (541) 689.1503 or visit www.green-hill.org.