Big Papa Is Ready To Find Love
This smart, loving, goofball is looking for an active family!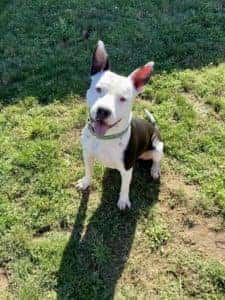 Meet Big Papa! If you are looking for a goofball, party animal, love bug, then Big Papa is your man! He's a 2 year old Pitbull terrier mix with white and black fur and the pointiest ears! He was transferred to Greenhill Humane Society from a shelter in Texas and already loves all that Oregon has to offer. His perfect family will take him on long hikes, throw the ball for him and spoil him rotten! Big Papa is very smart and needs a family that will continue giving him positive reinforcement training. He is a big fan of cheese and cuddles! A staff member said, "I LOVE Big Papa! He is the sweetest boy who loves butt scratches and squeaky toys. I love watching him get zoomies out in the yard and then take a nap in the shade."
He will do best with older children that can tolerate jumpiness and he may do ok with another dog that has the same high energy level. He is up to date on his vaccinations, is microchipped and neutered. Big Papa would make one lucky person very happy and an amazing copilot for life!
If you are interested in adopting a dog, or would like to learn more about adding a dog to your family, please contact Greenhill Humane Society.
Greenhill Humane Society is open for adoptions by appointment seven days a week, 11 am – 6 pm at 88530 Green Hill Rd in Eugene. For more information call (541) 689.1503 or visit www.green-hill.org.